Liu Xiangdong Conducts Field Research in IGCC Unit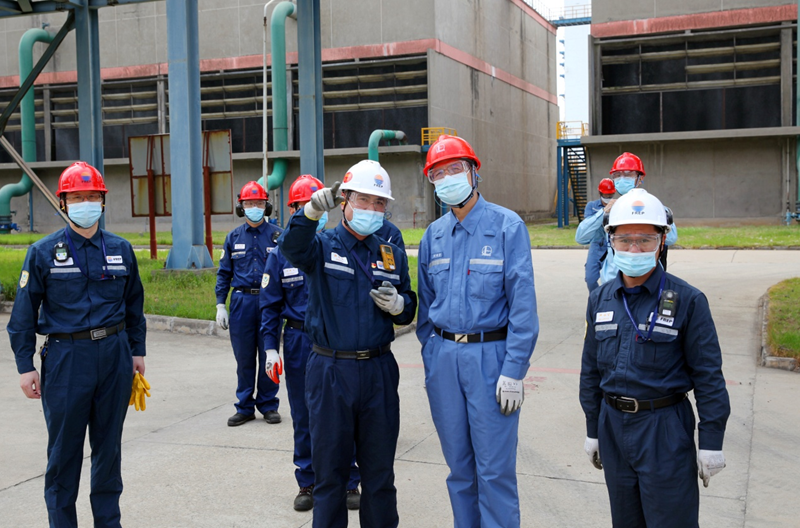 "How is the operation of the unit? How about the maintenance progress? Any difficulties..."
In the morning of April 25, Liu Xiangdong, chairman of the company and secretary of the company Party Committee, visited the IGCC site of Utilities Business Team for field research. He fully affirmed that the responsible departments and construction contractors successfully completed the maintenance work safely and efficiently in the special period of epidemic. He recognized the Utilities Business Team for the achievements in aspects of operation management and the winning of the "Award of Global Best Operation of Residue Oil Gasification" issued by Shell for two consecutive years.
Liu Xiangdong hoped the Business Team to carry out in-depth theme action of "Bearing in Mind the Entrustment, Making New Achievements and Creating Better Performance for the 20th National Congress of the CPC", work hard to ensure effective implementation of safety responsibilities, and continuously improve quality and profitability. Through the site-wide safety inspection, identify and rectify potential hazards in time, remove risks and ensure safe and stable production. At the same time, based on the actual operation status of the units, work hard to tap potentials and continuously increase the profitability of the units.
Liu Xiangdong encouraged all to carry forward the spirit of overcoming difficulties, be diligent in thinking, be good at summarizing, be brave in innovation, to enhance the core competitiveness of the units and contribute to the all-round and high-quality development of the company.
After the research, the management personnel of HSE Department and Party &Union Department reported the implementation of the safety overall inspection to Liu Xiangdong.
Management personnel of relevant departments of FPCL and FREP accompanied the research. (Zhang Lei)